BIKE FITTING
The ergotec scanner makes the ergonomics consulting at a specialist retailer a convincing experience for cyclists. In the real sitting position and when actively peddling, the cyclists experiences live how the changed settings have an effect on their physical comfort. At the same time, the cyclists can see themselves on the display screen of the scanner system. Using the personalised view, they can directly follow the changes to their body posture.
Saddle height and position by knee plumb, handlebar height, handlebar position and handlebar shape as well as the effects of different grips – in a very short space of time the consultant can work out all of the important settings together with the cyclist. Ergonomics has never been easier to understand. Thanks to the practical changing system, alternative handlebars, grips and saddles can be experienced immediately. At the end, the values determined can be easily transferred from the scanner to the bike.
Experience the ergotec scanner on video now!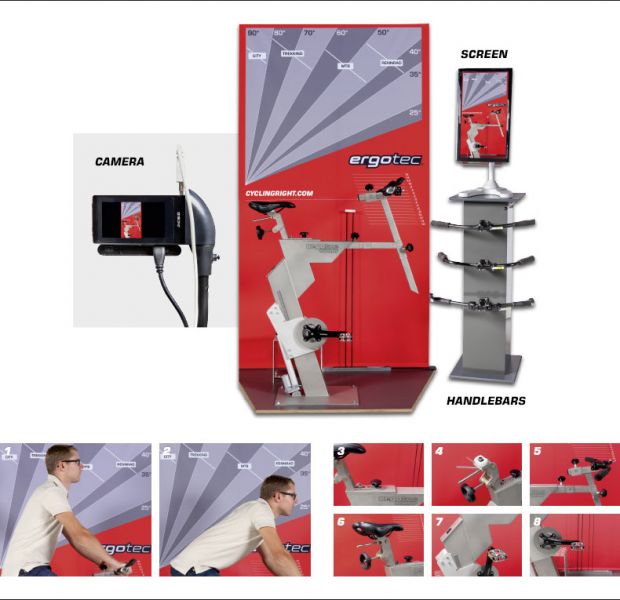 (1 + 2) The different angles of the torso can be experienced directly. (3) Sitting angle: can be smoothly adjusted (4) Change of saddle: adjust using quick release (5) Adjustment: top tube, stem, handlebars (6) Saddle angle: can be adjusted smoothly (7) No dismounting: adjust the stride length (8) Knee plumb: mechanical remote control