Nieuws
Safety Level
ERGOTEC Product news 2023
Ergotec product news

At the repositioned EUROBIKE, the ergotec team will present a variety of product innovations with a newly designed and expanded booth concept. The focus is on the III contact points between rider and bike.
In the "Cockpit" product area, the new EG grip series will be on display for the first time. The products around the contact point "Seating" are extended by the new EG saddle series. The product group of the interface "Pedaling" consists of the comprehensive and independent EP pedal series.


The new EG grip series - Made in Germany
As a world first, the completely newly developed EG grip series will be presented for the first time at the Eurobike. The new EG grip series combines ergonomics with dynamic design. Initially, three different models will be offered, each available in long/long and long/short sizes. In detail, these are the EG PERFORMANCE with a round shape, the EG AMBITION with a small ergonomic hand rest and the EG ACTIVE FLEX with an ergonomically shaped hand rest as well as adjustable damping properties. The EG grip series was developed in Germany and is also produced in Germany. At the heart of the EG grip series is the patent-pending "EG ACTIVE FLEX" handle. This grip has a large ergonomically shaped hand rest, which offers the possibility to adjust the hardness of the hand rest by exchanging the damping wedge (flex stick) due to the ergotec flex adjustment, which is unique at times. Initially, two Flex-Sticks are offered in green (more damping) as well as red (less damping). The inner material of the "EG PERFORMANCE" grips is a TP material composite made of recycled, glass fiber reinforced thermoplastic. The grip surface made of TPE thermoplastic elastomer material has a long service life and always gives the rider a secure, ergonomic grip that is easy on the joints. Since no classic Kraton is used, the "sticking" of the hands to the handle, belongs to the past.

The new ES saddle series
The new series consists of a total of 10 models, which are available in different sizes and hardnesses. In detail there are the models ES PERFORMANCE, ES ACTIVE, ES COMFORT and ES COMFORT PLUS. The strength of the saddles is divided into soft and medium or medium and strong. The saddles are characterized by a large scaled adjustment range of the saddle frame. Furthermore, the saddles have a relief level as well as an ergotec Flex T-zone, which adapts to the contour of the buttocks and helps prevent pressure points. The Cutout Plus, which are located under the ischial bones, are closed by an elastic membrane and reduce the pressure on the sensitive structures again, but without giving too much.
An open, unclosed elongated Comfort Cutout is located in the center of the saddle to provide additional relief for the perineal and pubic areas.
The ES saddle series was developed in collaboration with the German research center bicycle.


Safety Level
ERGOTEC SCANNER AND RICHTIGRADFAHREN.DE CERTIFIED BY AKTION GESUNDER RÜCKEN (AGR) E.V.
TOGETHER AGAINST BACK PAIN! HELP AND INFORMATION ABOUT THE BACK AND A BACK-FRIENDLY LIFE
Informing, educating, preventing – these are the goals that Aktion Gesunder Rücken e. V. has been pursuing since its foundation in 1995. The central concern of the association is to create awareness of the importance of back-friendly conditions and thus to avoid back pain. "In the prevention and therapy of back problems, everyday products that optimally support the musculoskeletal system and the spine play an essential role," says Detlef Detjen, Managing Director of AGR.
Everyday objects that meet these criteria are awarded with the AGR quality label "Tested & Recommended" by independent medical committees. In recent years, the quality label has been awarded to products from over 100 subject areas such as office furniture, seating and children's furniture, bed systems, shoes, car/truck seats, various sports equipment for therapy and prevention and many more.
"With its two consulting tools, Ergotec has convinced the interdisciplinary AGR examination board of doctors, therapists and sports scientists. While goedfietsen.nl advises consumers online, the Ergotec scanner supports the certified consultant in the bicycle retail trade.
Both Ergotec tools contribute to the prevention of back pain and have consequently been awarded with the AGR quality label."
Detlef Detjen, Managing Director of Aktion Gesunder Rücken e.V.
Certificate goedfietsen.nl and ergotec scanner.
Safety Level
TOMAS SLAVIK IS WORLD CHAMPION 2021 IN FOURCROSS!
PERFORMANCE MEETS SECURITY
Tomas Slavik, world champion, world cup winner and multiple national winner was able to win the world championship title in 2021 in 4x in the Italian Val de Sole.
Tomas rode the ergotec Riser Bar 50, the Team Series stem and the Skalar seat post. His trust in ergotec MTB components that meet his requirements confirms our ambition to always develop high-quality products. His successes speak for themselves and for ergotec.
Congratulations Tomas!
Click here for the video: Tomas Slavik is world champion 2021!
Safety Level
Safety Plus E-MTB
Voor Sportieve MTBs en E-MTBs (25 km / u)
De snelle ontwikkelingen in de E-MTB-sector maken het noodzakelijk om componenten constant te optimaliseren en aan te passen. De Safety Level 6+ is de veilige keuze voor sportieve E-MTBs. Voor stuursystemen tot max. 160 kg totaalgewicht (fiets + berijder + lading) en zadelpennen tot max. 160 kg rijdergewicht (rijder + rugzak) voor zowel mountainbike alsook E-MTB 25 km / u bereik.
De 6+ serie bestaat momenteel uit drie stuurbochten Flat Bar, Low Riser Bar en Riser Bar 30, evenals een stuurpen Bass en een Ray 6+ zadelpen.
Safety Level
INTEGRA-BK STUURPEN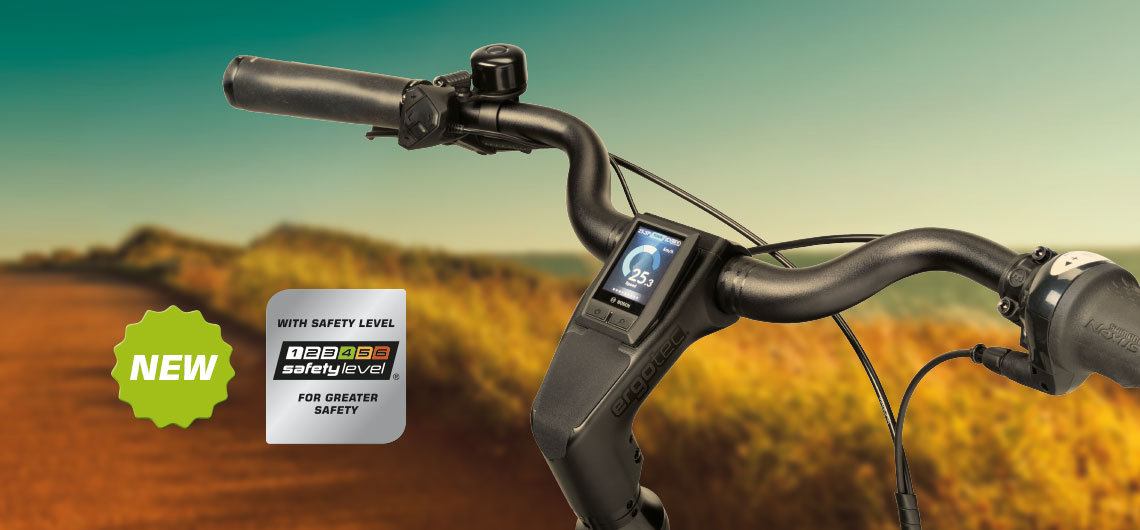 ZICHTBAAR ELEGANTE INTEGRATIE
Harmonie in de e-bike cockpit dankzij perfecte integratie. Stuurbocht en stuurpen versmelten tot één visuele eenheid en de huidige Bosch displays passen er stijlvol bij. De nieuwe ergotec Integra-BK combineert op elegante wijze een hoog niveau van veiligheid, perfecte ergonomie en helder design. Dankzij de hoogte is de opnieuw ontworpen stuurbuisklem comfortabeler, waarbij de verbreding richting het stuur een unieke, geïntegreerde look creëert.
Bijzonder is de geïntegreerde kabelgeleiding, wat resulteert in een harmonieus, strak design.
Safety Level
ergotec spiegel M-99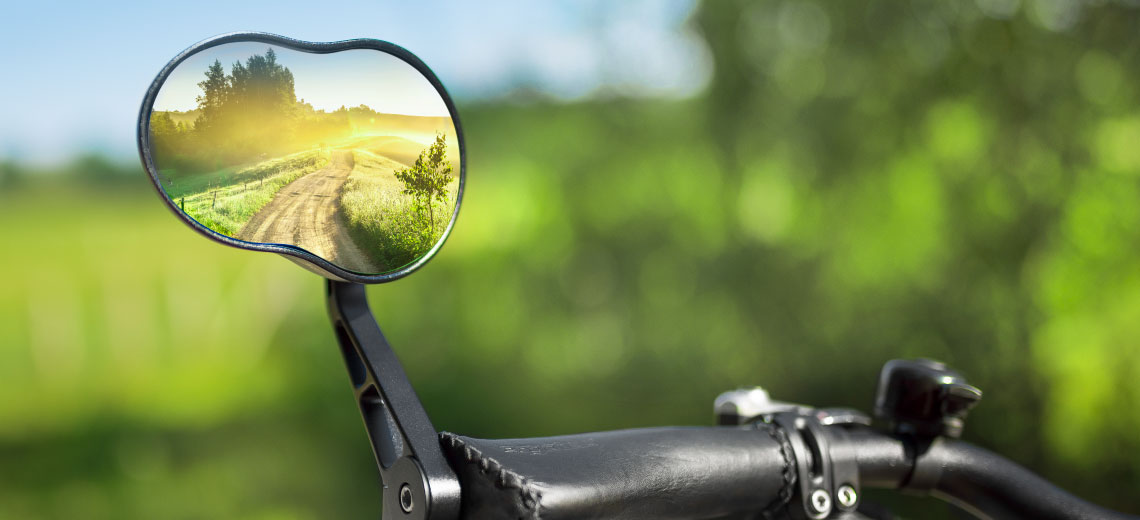 Ergotec M-99 – eenvoudig te bevestigen E-bike achteruitkijkspiegel

Net als bij het autorijden moet bij het fietsen ook een achteruitkijkspiegel worden gebruikt. Een integrale verkeersveiligheid wordt pas bereikt als de fietser ook goed zicht naar achteren heeft op het achterliggende verkeer.
De stijlvolle behuizing is gemaakt van gesmeed aluminium en geeft de achteruitkijkspiegel een exclusieve uitstraling. De ergotec M-99 met zijn afmeting van 12,2 x 7,8 x 2 cm (BxHxD) en asferisch spiegeloppervlak geeft een extra grote kijkhoek waardoor blinde vlekken worden verminderd. De montage is links of rechts mogelijk en ook geschikt voor gebogen sturen. Een rotatie van 360 graden maakte een individuele positionering van de spiegelkop mogelijk. Door het goedgekeurde E- nummer is de spiegel ook toepasbaar op E-Bikes 45 km / u en motoren. Een adapter voor klemming aan het stuur is optioneel verkrijgbaar.
Bekijk here ons volledige assortiment achteruitkijkspiegels.