News
Safety Level
ERGOTEC SCANNER AND RICHTIGRADFAHREN.DE CERTIFIED BY AKTION GESUNDER RÜCKEN (AGR) E.V.
TOGETHER AGAINST BACK PAIN! HELP AND INFORMATION ABOUT THE BACK AND A BACK-FRIENDLY LIFE
Informing, educating, preventing – these are the goals that Aktion Gesunder Rücken e. V. has been pursuing since its foundation in 1995. The central concern of the association is to create awareness of the importance of back-friendly conditions and thus to avoid back pain. "In the prevention and therapy of back problems, everyday products that optimally support the musculoskeletal system and the spine play an essential role," says Detlef Detjen, Managing Director of AGR.
Everyday objects that meet these criteria are awarded with the AGR quality label "Tested & Recommended" by independent medical committees. In recent years, the quality label has been awarded to products from over 100 subject areas such as office furniture, seating and children's furniture, bed systems, shoes, car/truck seats, various sports equipment for therapy and prevention and many more.
"With its two consulting tools, Ergotec has convinced the interdisciplinary AGR examination board of doctors, therapists and sports scientists. While cyclingright.com advises consumers online, the Ergotec scanner supports the certified consultant in the bicycle retail trade.
Both Ergotec tools contribute to the prevention of back pain and have consequently been awarded with the AGR quality label."
Detlef Detjen, Managing Director of Aktion Gesunder Rücken e.V.
Certificate cyclingright.com and ergotec scanner.
Safety Level
TOMAS SLAVIK IS WORLD CHAMPION 2021 IN FOURCROSS!
PERFORMANCE MEETS SECURITY
Tomas Slavik, world champion, world cup winner and multiple national winner was able to win the world championship title in 2021 in 4x in the Italian Val de Sole.
Tomas rode the ergotec Riser Bar 50, the Team Series stem and the Skalar seat post. His trust in ergotec MTB components that meet his requirements confirms our ambition to always develop high-quality products. His successes speak for themselves and for ergotec.
Congratulations Tomas!
Click here for the video: Tomas Slavik is world champion 2021!
Safety Level
Safety Plus E-MTB
For Sporty MTBS and E-MTBS (25 km/h)
The rapid developments in the E-MTB sector make it necessary to constantly optimize and adapt components. The Safety Level 6+ is the safe choice for sporty E-MTBS. For steering systems to max. 160 kg total weight (bike+rider+load) and seat posts to max. 160 kg rider weight (rider + backpack) for Mountain Bike and E-MTB 25 km/h range.
The 6+ series currently consists of three handlebars Flat Bar, Low Riser Bar and Riser Bar 30, as well as a stem Bass and a seatpost Ray 6+.
Safety Level
Everything in sight!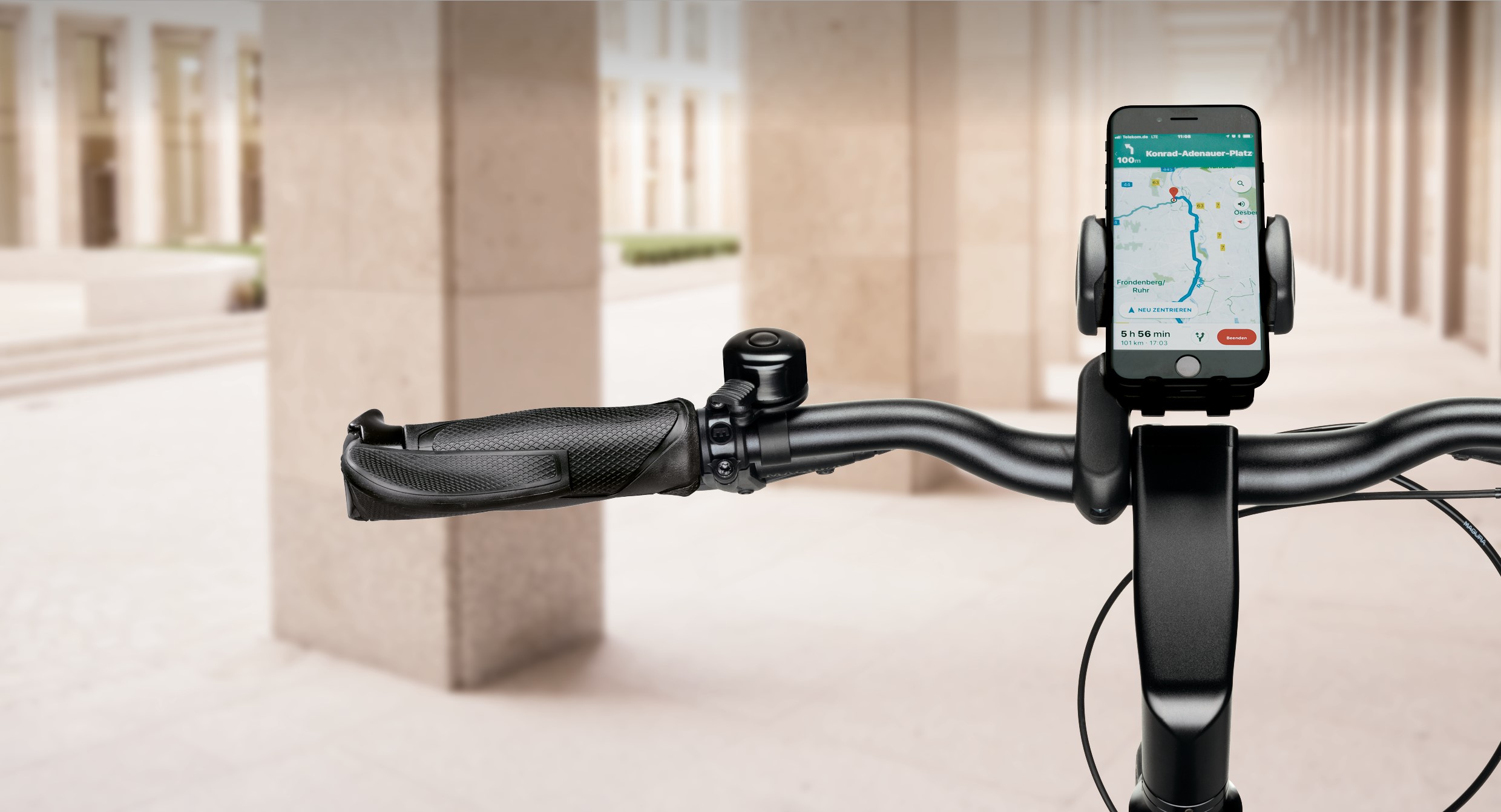 Suitable for all standard smartphones

The new ergotec smartphone holders are available in two different versions. For handlebar and stem mounting. The smartphone can simply be attached or removed at the touch of a button. The supplied silicone strap ensures that the smartphone is always held securely, even during bumpy off-road rides. The special ball joint allows 360° rotation of the phone, and the viewing angle can be freely adjusted as required.
Safety Level
ergotec mirror M-99 - test winner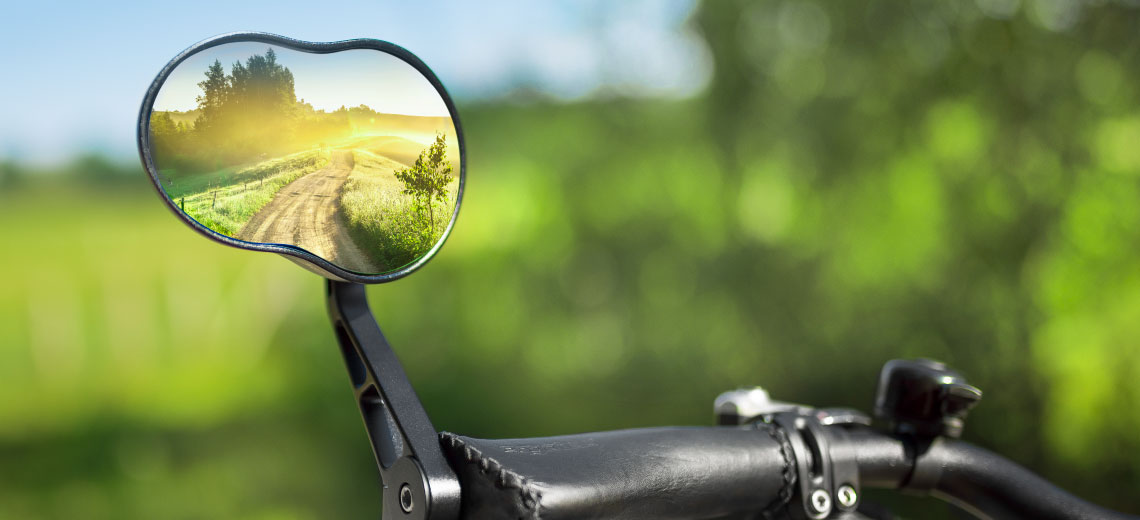 Ergotec M-99 – easy attachable E-Bike rear view Mirror
Just like when driving a car a rear view mirror should also been used when cycling. A comprehensive road safety is only achieved when the cyclist is able to also have a good rear view on the traffic happen behind him.
The M-99 rear-view mirror by ergotec is the test winner of a comparison test done by vergleich.org. In this test the M-99 rear view mirror was awarded with a very good ranking (1.4) and took first place. Please find more infos and all details of the test at https://www.vergleich.org/fahrradspiegel/
The stylish housing is made of forged aluminum and gives the rear-view mirror an exclusive look. The ergotec M-99 with its dimension of 12,2 x 7,8 x 2 cm (WxHxD) and aspherical mirror surface gives an extra-large viewing which reduces blind spots. The mounting is possible left- or right-hand side and also suitable for bended handlebars. A 360 degree rotation made possible an individual positioning of the mirror head. Due to approved E-Test number the mirror can also be applied on E-Bikes 45 km/h and motor bikes. An adapter for clamping to the handlebars is available as an optional extra.
Check out our entire range of rear view mirrors here.
Safety Level
Handlebar with axis-neutral position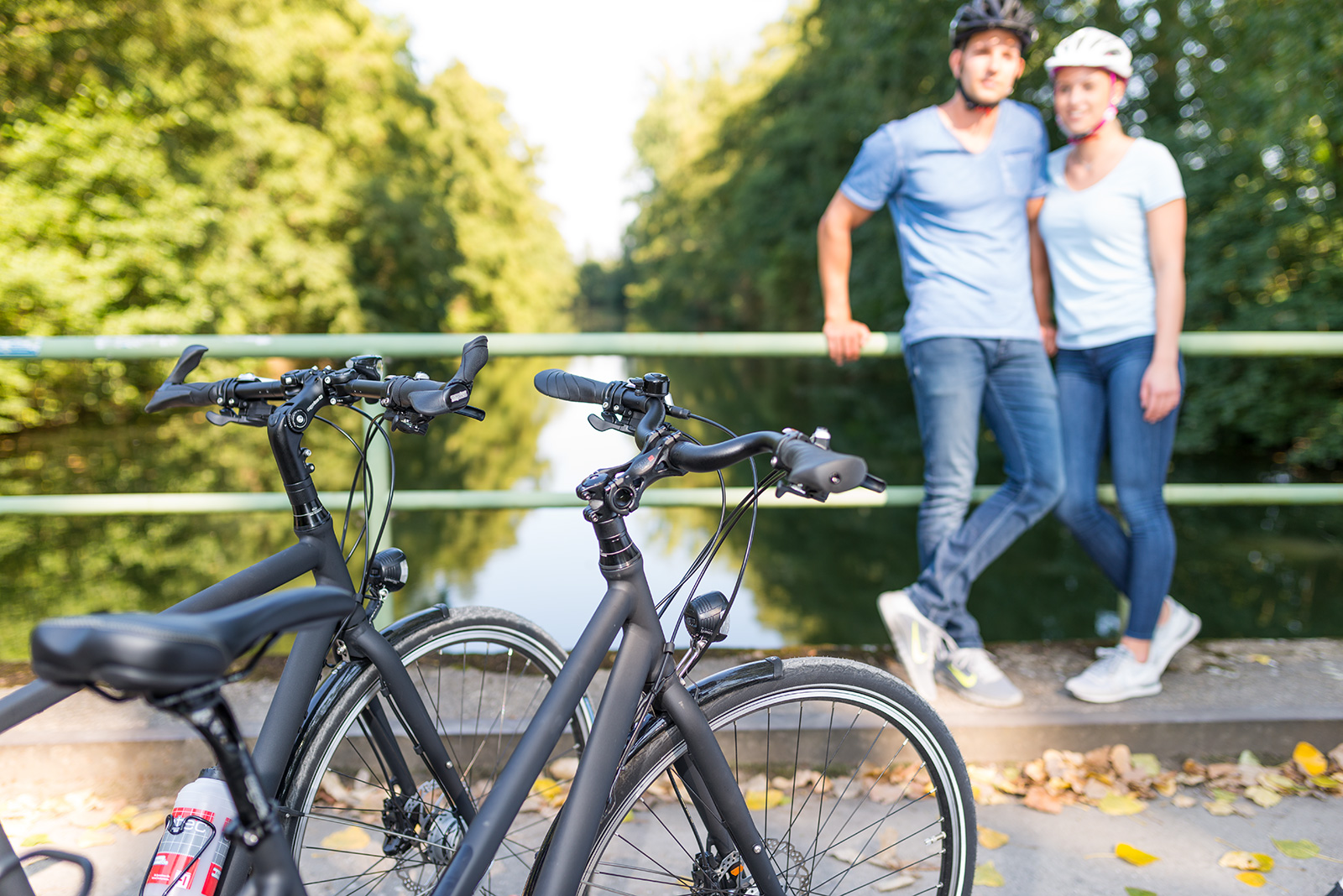 M-Bar series
Thanks to the special shape of the handlebars, the grips and the handlebar clamp are in the same axis-neutral position, which has the advantage that in spite of their ergonomic angle of grip the handlebars do not eyperience any length loss.
The three sizes - S = 14°, M = 16° and L = 18° - also offer the possibility of selecting the angle of grip in terms of physical stature. All three models have a width of 700mm and can, if required, be shortened by up to 100mm without difficulty.
Safety Level
Integrated System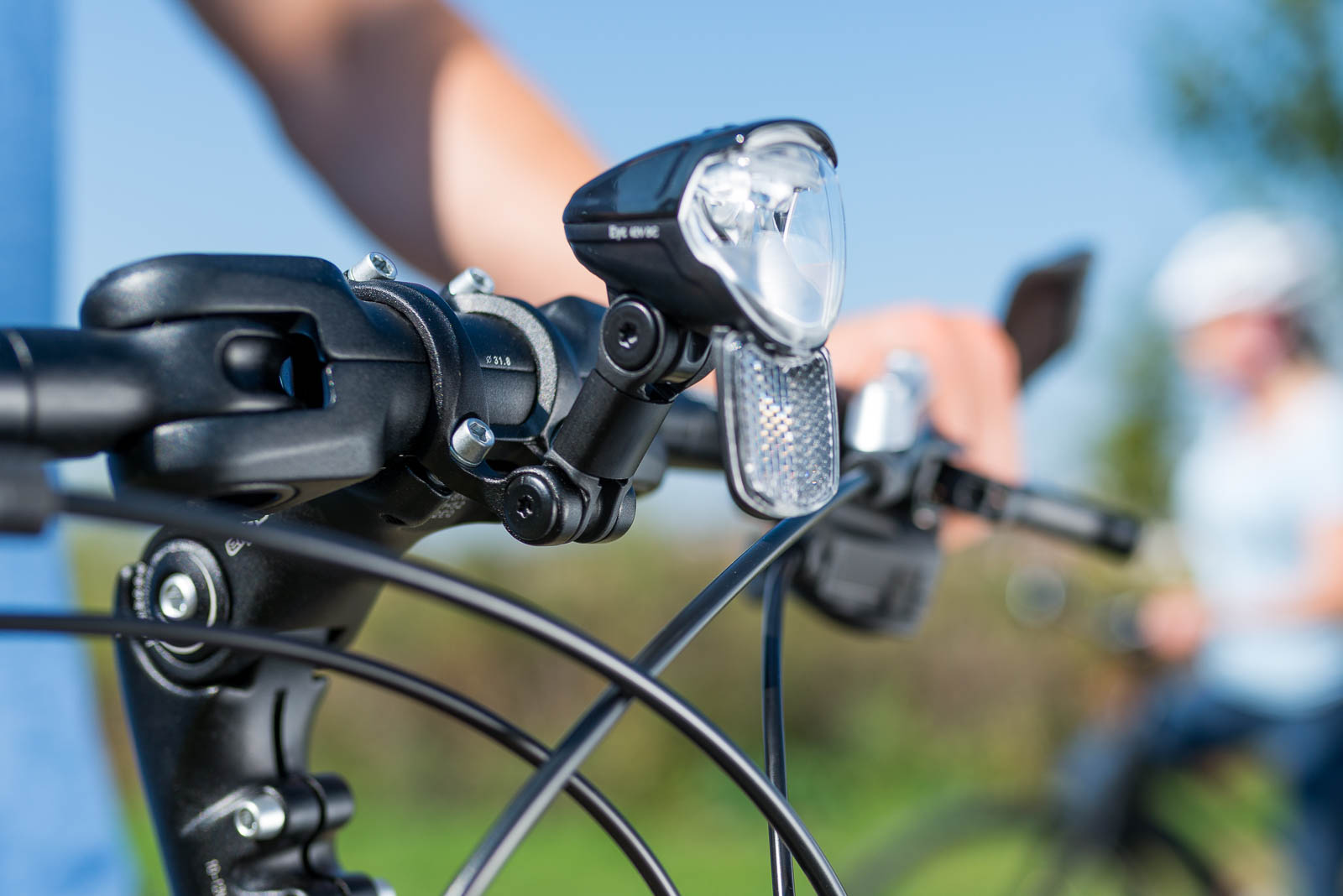 Faceplate with holder
Thanks to the new faceplate, the headlight can be mounted directly on the stem and giving the bike a completely new look. With the aid of the double joint, headlights of different manufacturers and sizes can be installed, which can then be individually adjusted both in height and in the distance. Alternatively, it also possible to adapt a mini camera to it.
Suitable for all Charisma- and ergotec Octopus- stems with 31.8 mm clamping diameter.
Safety Level
Safe pedaling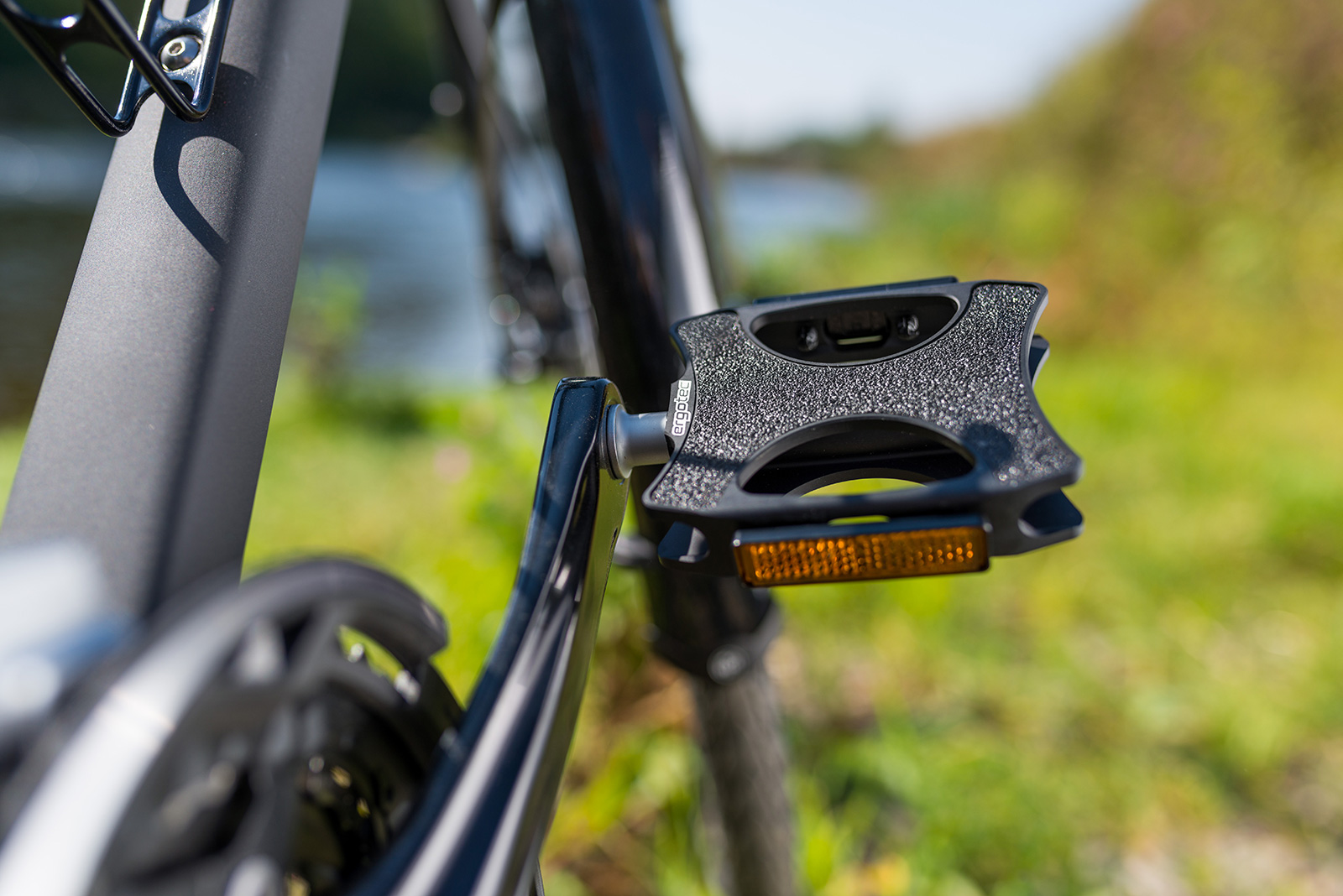 EP Urban Pedal

As is the case with all EP pedals, in the case of the EP Urban pedal the contact surface is concave in shape. It has a non-slip sandpaper surface, which provides the feet with secure retention, even under wet conditions. The aluminium body features additional CNC milling and gives the pedal its high-quality styling.
Safety Level
Environmentally friendly chrome platin of handlebars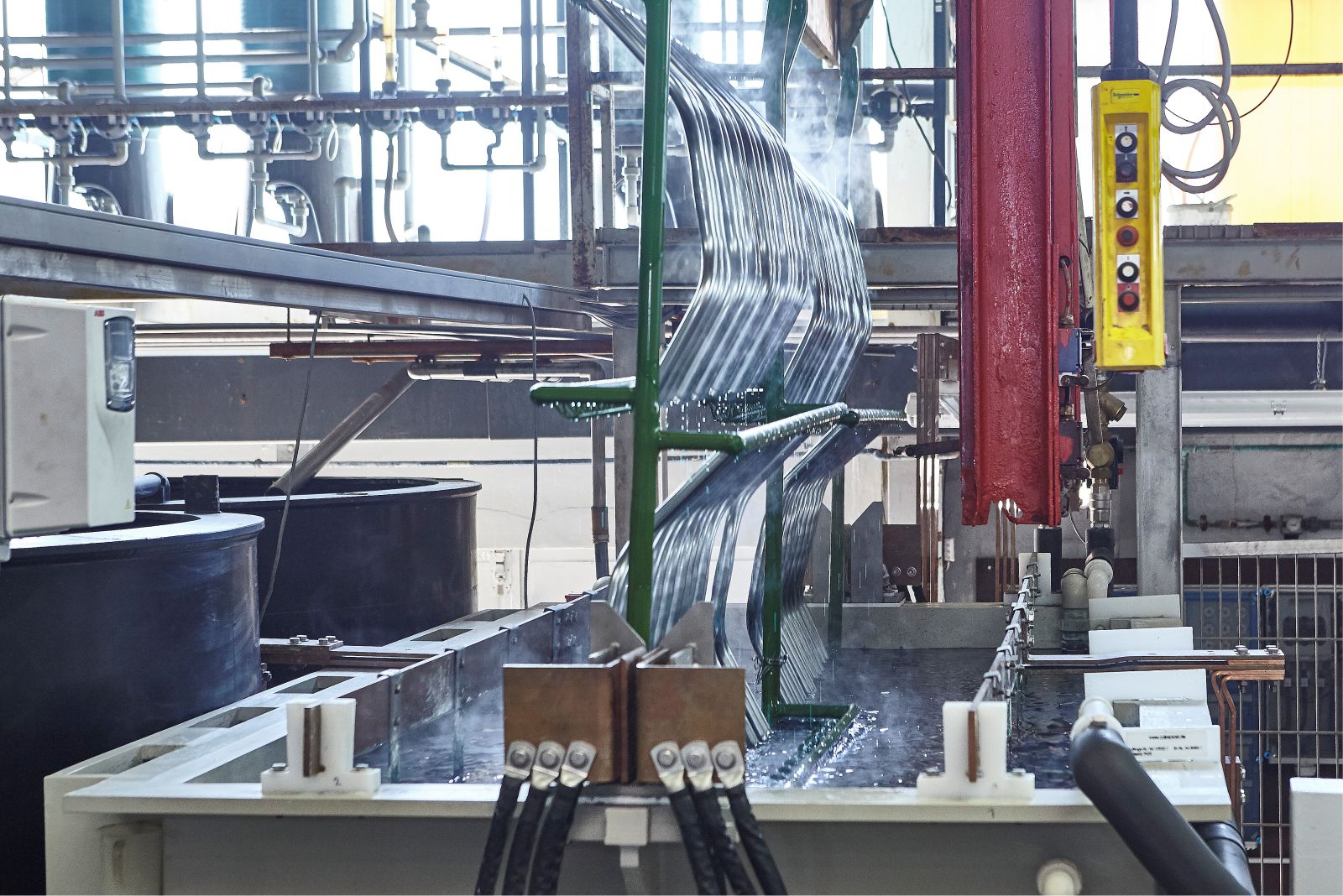 Handlebars 'MADE IN GERMANY'
In series production micro-alloy steel (MAS) has proved highly successful on the market as a material for handlebars. In spite of a reduction in wall thickness from the original 1.5 mm to 1.2 mm, the strength of the material has been increased, ensuring that the ergotec MAS handlebars offer a high level of safety.
NEW! Chrome and aluminium look finish also provided by the sustainable chromium (III) galvanic process
The reason for the introduction of trivalent chromium is the regulations imposed by the EU's REACH directive. In April 2013 the European Commission included chromium (VI) and further chromium compounds in Annex XIV of the EU's REACH (Registration, Evaluation, Authorisation of Chemicals) directive. This annex lists so-called SVHC (Substances of Very High Concern) substances, in other words substances which have a serious effect on human health or the environment.
This means that after 21.09.2017, the so-called 'sunset date', such substances can only be used with a permit from ECHA – the European Chemical Agency. Such a permit had to be applied for at the latest by March 2016. It means that for every application proof has to be provided that the substance is handled correctly and that no other suitable alternative is available for the relevant application. In individual cases it is only possible to provide such proof by special scientific studies. The entire procedure is uncertain, labour-intensive and expensive. And a large number of companies are affected, not just in the field of surface-finish technology, because in chromium trioxide a substance with an extremely wide range of applications has for the first time been listed.
Today Humpert is already in a position to offer the REACH-compliant chromium (III) for its ergotec handlebars, instead of chromium (VI), which will in future no longer be permitted. Both substances are currently being applied in parallel operations, with the aim of responding flexibly to customer requirements.
After an intensive development period and a long trial phase, good quality results can now be achieved in the chromium (III) process, with the colouring and level of shine almost identical with the chromium (VI) chrome-plating process.
A series of elaborate tests relating to corrosion resistance and the resulting analyses have now produced comparable test results in terms of corrosion resistance in ASTM-9 quality. As usual customers can be provided with the relevant test certificates in accordance with the applicable DIN norm. In spite of high development costs, Humpert will try to maintain its price structure for the chrome-plated ergotec handlebars with the new chromium (III) surface finish.
The use of MAS tubing for handlebars in combination with the new chromium (III) surface finish ensures the manufacture of safe products with a gleaming, corrosion-resistant finish which are produced efficiently and above all sustainably in Wickede.